Start Saving with Solar Energy
---
Get a Price Quote and Learn the System Cost
Calculate the return on investment period
Have a detailed equipment and material list
Obtain the annual savings and feasibility report
Start Saving with Solar Energy!
Why Should You Switch to Solar Energy?
Provides savings of up to 100% on your bill
The unlimited source of the sun protects you from interruptions
Selling excess production to the grid generates income
It is the most environmentally friendly electricity generation system
Take Your Place Among the Winners
Explore the Reviews and Ratings from Our Customers Who Save on Electricity with Solar Energy and Vehicle Charging Stations!
Discover the Process of Converting Sunlight into Electricity from Photon Particles, One of the Most Essential Needs of Modern Life
4 Fundamental
Usage Methods of Solar
Energy Systems
Energy Storage
Operates During Outages
Grid Selling
Operates Without Electricity
Energy Storage
Operates During Outages
Grid Selling
Operates Without Electricity
Energy Storage
Operates During Outages
Grid Selling
Operates Without Electricity
Energy Storage
Operates During Outages
Grid Selling
Operates Without Electricity
All Control is at Your Fingertips
Monitor Your System's Electricity Production and Consumption in Real-Time
Remotely Monitor the Status of All System Equipment
Easily Detect Potential Equipment Faults and Failures
Access Performance and Consumption Data from Recorded Logs
total installed power
---
The Contribution of the Systems We Establish to the National Economy and Energy Independence
completed project
---
We have undertaken many projects, primarily including residential, industrial, agricultural, and energy power plants
CO²
---
The Contribution of the Systems We've Implemented to Reduce Toxic Gas Emissions to the Environment
team of people
---
We have the most well-equipped and expert team in the Aegean region of Turkey
Customizable Solar Packages
According to Your
Usage Values
Ceres - 2kWp
Single-Phase
$2.450
Price includes VAT and installation
Panel
4 x 455W
Inverter
2kW
Battery
Not included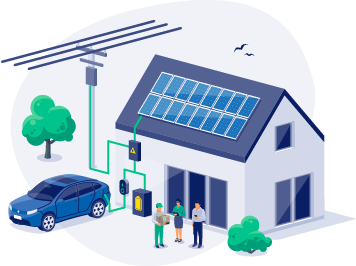 Titan - 11kWp
Three-Phase
$23.000
Price includes VAT and installation
Panel
20 x 550W
Inverter
10kW
Battery
2 x 5,8kW
Let's Design the System that Best Fits Your Needs
Meet our energy engineers who can facilitate your transition to solar energy systems in the most professional and flawless manner